In Memory
John Baker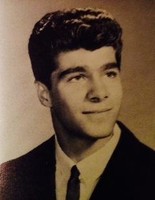 John Baker passed away on Aug. 12, 2009. He was 63 years old.
A resident of Eastsound, Wash. on Orcas Island since 1994, John spent his last two months in Portland, Ore. where he was cared for by his sons and daughter-in-law through the aid of hospice. He died peacefully after a battle with cancer, which he had been diagnosed with just five months prior.
Born in Meadville, Pa., to Ellis and Betty Baker, John's family eventually settled in southern California. Soon after graduating from South Gate High School he was drafted during the Vietnam War. He served as a medic in the US Army in South Korea.
John lived in several places, including Florence, Ariz. where he served as vice-mayor, Phoenix, Ariz., Sedona, Ariz. where he opened an antique store, thrived in the hotel industry, and began his foray into community theater acting, and finally Orcas Island where he became a fixture, in part through his continued theater performances, his detailed pen and ink drawings, and through his various places of employment, including Rosario Resort, Deer Harbor Resort and during the last several years, Ace Hardware. His warmth and vitality earned him the loving support of his community, which gave him and his family much-needed strength through his last difficult months.
John is survived by his sons, David and Joe, his brother Bill, and his grandsons, Lexton, Landon, Lathan, and Lowen.