In Memory
September 26, 2021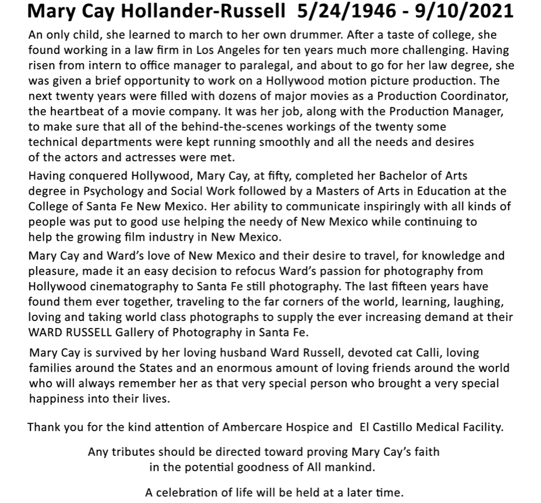 February 2, 2021
Susan Garcia, the wife of our classmate Don Garcia, in formed us of Don's passing on January 26, 2021.
November 2020
Sharilyn (Shari) Adkins of Weiser, Idaho and Wellton, Ariz., joined the angels on Friday, Nov. 27, 2020, surrounded by love.
Shari was born Sept. 11, 1946 in Southern California where she lived and met the love of her life Larry Adkins who she married on her birthday in 1967.
They moved to Boise, Idaho in 1973 to a 5 acre place. Not too long after moving to Boise, they purchased a 50 acre farm in Meridian before finding their dream ranch in Indian Valley. In 1978 they purchased the ranch and moved full time to Indian Valley raising cattle and enjoying life to its fullest until it was time to retire from full time ranching.
They eventually sold the ranch and moved to Weiser with their favorite horses in tow. Many new friends were made in Weiser and golf replaced ranching.
They also planted winter roots in Wellton, Ariz., where golf remained an almost daily activity. Shari had golfed just a few days before passing away at their winter getaway, but her ashes and spirit will remain a permanent part of Indian Valley, her favorite place.
Shari had a long career with the University of Idaho Adams County extension system, volunteered with the fair boards in Adams and Washington counties, owned a fuel station and spent countless hours ranching with her husband.
She held a great love for animals of all kinds but most especially her cows and her horses. She passed this love of animals on to her son and her grandchildren.
Once retired, Shari developed a love of golf which she continued until the end of her life.
Shari's passion for life was contagious. Her laugh, smile and the twinkle in her eye lit up every room she was in. She loved taking care of people whether it was making them a meal, getting them a drink or just being a listening ear.
She will be remembered for her loving soul and how much she cared for those around her. Her greatest joy was her family.
Shari is preceded in death by her parents, Loren and Kathryn Wilke and her sister Doreen Cooke.
She is survived by her husband Larry Adkins, son Mike Adkins, sister Dorothy Moody, grandchildren Kendal(Tim) Callender, Jessica (Kyle) Marko and Zach Adkins, great-grandchildren Anika and Wyatt Callender; Madelyn, Jackson and Cooper Marko; along with many nieces, nephews, cousins, and loving family.
A celebration of life will be planned for next spring which was one of her favorite times of year.
In lieu of flowers or gifts, the family would respectfully ask that a donation be made to the donors favorite charity in honor of a great wife, mother, grandmother, great-grandmother and most of all friend.
If you are aware of a Classmate who should be added to this page please let us know.